Offerings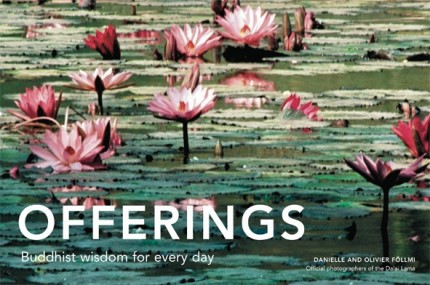 Offerings: Buddhist Wisdom for Every Day (Offerings for Humanity), New York, Stewart, Tabori and Chang, 2003.
(Edition américaine d'Offrandes)
About the book
A book to contemplate each day, Offerings is a deeply thoughtful collection of wisdom and knowledge from the masters of Tibetan Buddhism. Three-hundred sixty-five photographs by Olivier Föllmi present an evocative new image every day—each accompanied by a choice Buddhist quote. This spiritual advice, which is suited to people of any belief or religious tradition, is organized into 52 themes, including spirituality, ancestors, money, trust, and dependence. Danielle and Olivier Föllmi share a message of peace and hope in this new book. Through subjects that preoccupy us today, the masters of Tibetan Buddhist thought—including His Holiness the Dalai Lama, Kalu Rinpoche, Chogyam Trungpa, Shabkar, Jack Kornfield, and Arnaud Desjardins—convey to us their vision of existence. Their collective and individual vision celebrates humanity and encourages continual self-improvement. – 365 color photographs that celebrate peace and hope – A meditation accompanies each photo – Advice from the great masters of Tibetan Buddhism.