Latin Spirit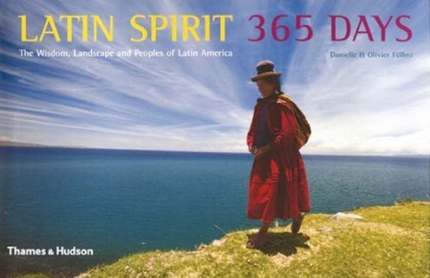 Latin Spirit, 365 Days, London, Thames & Hudson, 2006.
(Edition anglaise de Révélations)
'… a beautiful and inspirational vision of one of the most diverse continents on earth' – Outdoor Photography
'Beautifully evocative' – Yoga and Health
For this fourth volume of their bestselling 365 series, Danielle and Olivier Föllmi turn their attention to Latin America…
From the high Andes to the Mexican desert, Olivier Föllmi travelled through this vast continent to witness the celebrations, rituals and traditions of an Indian indigenous life rich with an uncommon fusion of Christian and local traditions. In village after village and day after day, Olivier Föllmi discovered new ways of seeing as he sought to understand and capture through photography the intimate connection linking the peoples to their ancestral land.
As in the series' other volumes, each photograph is accompanied by daily wisdom drawn from oral or literary traditions. Danielle Föllmi, who is originally from El Salvador, oversaw the selection of texts, which are drawn from traditional sources as well as the great works of Latin American literature and its Nobel Prize laureates.